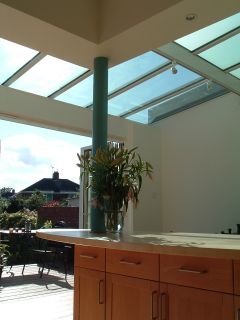 A rear extension with a fully glazed roof to an existing semi-detached house.
The project re-organizes the layout in an open plan where kitchen, sitting and dining rooms are easily interconnected around a new table in the shape of a surf board. This table evolves around a new steel column which helps to support an existing first floor above and allows the removal of load bearing walls.
At the rear, new sliding and folding aluminum frame doors link the interior with a new raised decking area, and beyond with the rear gardens.