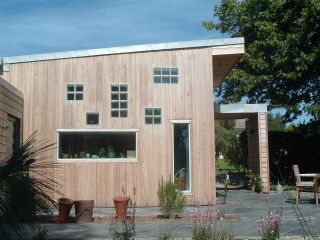 In accordance to the client's brief, whose input was important at all stages of work, this new house was conceived to offer a sustainable environment for their new occupants. Heating is provided by a heat pump using horizontal coiling. The microclimate indoors is regulated with a mechanical and ventilation system that circulates fresh air and heath all over the house. No radiators are present; instead underfloor heating is provided in every room and kept at an average temperature for most of the time.
The house was built in timber frame and cladded externally, vertically in softwood and horizontally in Douglas Fir. The timber walls, are well insulated, with above the required u-values, as are other elements of the house, such as floors and roofs.
Conceptually, the new house is organized in one level and along a central gallery, orientated east/west, towards which each room is connected. Towards one side the new kitchen/dining and lounge and towards the other the more private rooms, bedrooms and studies. The gallery has a soft curve and is wide enough to offer shelving space and room for small pieces of furniture. The gallery has plenty of natural light and is illuminated from various directions. Externally, this organization is reflected in the massing of the house and complemented with shallow roofs covered in recycled stainless steel sheeting.
The plan is very open between gallery and kitchen/dining and lounge, with throughout views between rooms. New sliding and folding doors and glazed windows, located in the kitchen /dining and the lounge, are part of the proposed scheme to fully integrate the interior and the immediate terraces and gardens beyond.