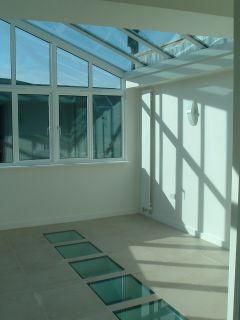 Part of and existing listed building Grade II this project involved the creation of a new kitchen area and the replacement of an existing conservatory located above the kitchen.
Due to the restrictions imposed by the site and conservation policies, there was little scope to increase the amount of natural light into the kitchen area. Faced with these constraints the only way of gaining extra light was through the floor of the conservatory.
Therefore, The old conservatory was replaced for a more modern and spacious structure made in aluminum and the floor was fitted with glass panes to bring the much needed natural light into the kitchen.