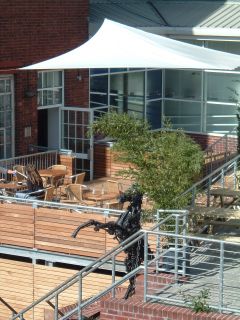 The Exeter Phoenix is a leading arts and media centre located in the heart of Exeter. It is a venue for exhibitions, artistic and musical events and related courses for the community. The brief called for the provision of a new terrace to extend the bar and restaurant facilities, well used by the users of the centre and the general public.
The proposed New Terrace was conceived to make use of a service area between the original building built in the early 20th century and an extension built in the late 90s. A new structure, facing south and raised one floor above the ground level, made in timber and galvanized steel, is proposed to create an extension to the existing bar and restaurant and to offer a new gathering space, which can be used to extend the facilities already in offer.
The constraints imposed by the different internal and outdoor levels around the new terrace were solved by accessing it from inside through a new door and some steps and by connecting it with an exiting terrace through a new ramp to provide easy access for people and equipment. The new balustrades enclosing the terrace, made of supporting galvanized steel posts and handrails, were cladded on both sides with red cedar timber boards to provide safety for users. In addition a new canopy, supported by steel wiring fixed to the flanking walls around the terrace, was proposed above to give partial coverage from the weather and the sun.