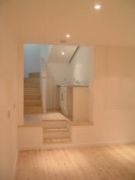 The Aga Cooker Centre at Garton King Appliances Ltd. is a long established shop selling Aga products and other household appliances. Located in the middle of Exeter, in an area rich in archaeological remains and occupied for centuries, the site offered for the project was dully researched before work could proceed.
The brief for this project called for the extension of an existing showroom over an underused rear patio. Tucked between adjacent buildings and a rear elevated public garden, the brief offered the opportunity to explore the use of natural light. For that purpose, a new glazed roof and a long roof light bring natural and sunlight from above into the extended showroom.
The glazed structure also incorporates a new staircase which connects the showroom with a new open terrace above. This terrace is fully decked and suspended above a leaded roof below, to create a meeting area for the staff members, and as a way of providing an escape route towards the rear public garden.